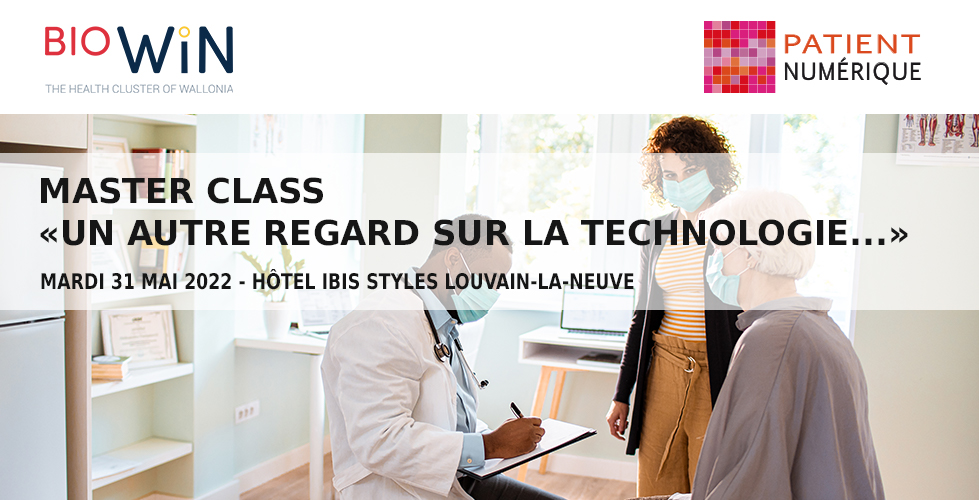 This event will be held in French
« Patient Data » : for what intelligent use ?
Powered by BioWin
May 31, 2022
_______________________________________________
The intelligent use of "patient data" represents a major challenge both in research and innovation and in the improvement of healthcare practices. It is one of the European priorities and is part of the initiatives underway at the federal level and in the Walloon region. The implementation of this ambition requires the mobilization and the collaboration of the actors of the existing ecosystems, including BioWin, the health competitiveness cluster of Wallonia, and the Digital Patient community.
For this seminar, BioWin and the Patient Numérique will invite a varied panel of speakers from the industrial, academic and hospital worlds to share their observations, visions and ambitions on this major issue. The presence of Mathieu Michel, Secretary of State for Digitalization, is already confirmed.
This seminar is aimed at all players involved in innovation as well as healthcare professionals, hospital directors, and representatives of the regional administrations concerned who wish to discover and share their point of view on the potential of using patient data to serve healthcare.
Program :
14:00 – 14:30 : Welcome
14:30 – 14:35 : Introduction
Le Patient Numérique et BioWin
14:35 – 14:50 : Intervention de Mathieu Michel, Secrétaire d'État à la Digitalisation
14:50 – 15:10 : Big data et intelligence artificielle pour la Médecine des réseaux et des systèmes
Pr Benoît Macq, Professeur à l'UCLouvain
15:10 – 15:20 : Q&A
15:20 – 15:30 : How to deliver meaningful AI while protecting the patients' data?
Wim Vos, CEO de Radiomics
15:30-15:40 : Data: Now with a trend
Pierre Daye, CTO & Co-Fondateur de P3Lab
15:40 – 15:50 : Using AI to monitor patients with chronics respiratory disease
Alfred Attipoe, CEO – Comunicare & Sylvain Blanco Alvarez, Data Engineer – Comunicare
15:50 – 16:00 : Q&A
16:00 – 16:20 : Coffee break
16:20 – 17:10 : Round table
Moderated by Dr Thierry Vermeeren, Directeur scientifique du Patient Numérique
Round table participants :
Dr Philippe Kolh, Directeur du Département de Gestion des Systèmes d'Information du CHU de Liège
Vic De Corte, Board member & Consultant, ex-CEO de la Clinique Saint-Jean
Pr Benoît Macq, Professeur à l'UCLouvain
Thibault Helleputte, CEO de DNALytics
Giovanni Briganti / Nathanaël Ackerman  – AI4Belgium
17:10 – 18:00 : Drink
This Master Class will take place in Louvain-La-Neuve (Hotel IBIS- Bd de Lauzelle 61, 1348 Ottignies-Louvain-la-Neuve).
This session is reserved only for the Patient Numérique community and BioWin members.
We count on your presence!
ATTENTION: the number of seats is limited. Please register as soon as possible.
Participation is free, registration is required!