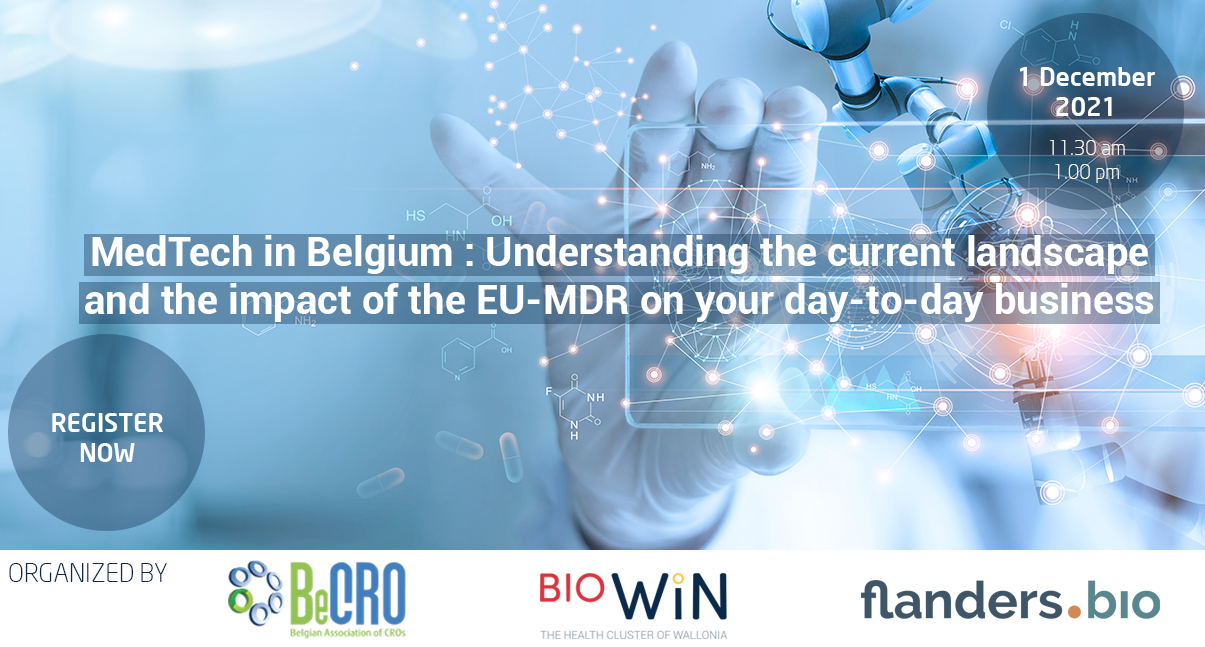 Webinaire – 1er décembre 2021 – 11:30 – 13:00
_____________________________________
Le secteur MedTech est en train d'émerger et de faire croître une communauté principalement composée de petites entreprises dynamiques très actives dans la recherche et l'innovation.
La règlementation UE-MD (2017/745) est maintenant en vigueur depuis mai 2021 avec des exigences qui doivent être bien comprises pour réussir à apporter vos innovations de santé aux patients.
Pour leur 3ème webinaire conjoint, BeCro, BioWin et flanders.bio vous invitent à en savoir plus sur le paysage MedTech en Belgique et à apprendre les points importants que vous devez connaître sur l'impact de cette EU-MDR sur votre développement clinique.
PROGRAMME: 
✔️ Introduction. Willem Dhooge, Co-General Manager, flanders.bio
✔️ The current MedTech landscape in Belgium. Marnix Denys, Managing Director, beMedTech
✔️ The new MDR and its challenges. Ruth Beckers, Coordinator MedTech Flanders
✔️ Clinical investigations under the new MDR. Steve Eglem, Head of Unit Clinical investigation & unmet Medical Needs, FAMHP – FAGG – AFMPS
✔️ Questions & Answers. Marianne Ghyoot, Director Research & Innovation, BioWin
INSCRIPTIONS EARLY BIRDS POUR LES MEMBRES
Inscrivez-vous dès maintenant à ce webinaire gratuit de 1,5 H le 1er décembre 2021 à 11h30 en cliquant sur le lien ci-dessous.
Ce webinaire est offert gratuitement aux membres de BeCRO, BioWin et flanders.bio.
Pour plus d'informations ou pour toute question, veuillez contacter Marine Di Vincenzo