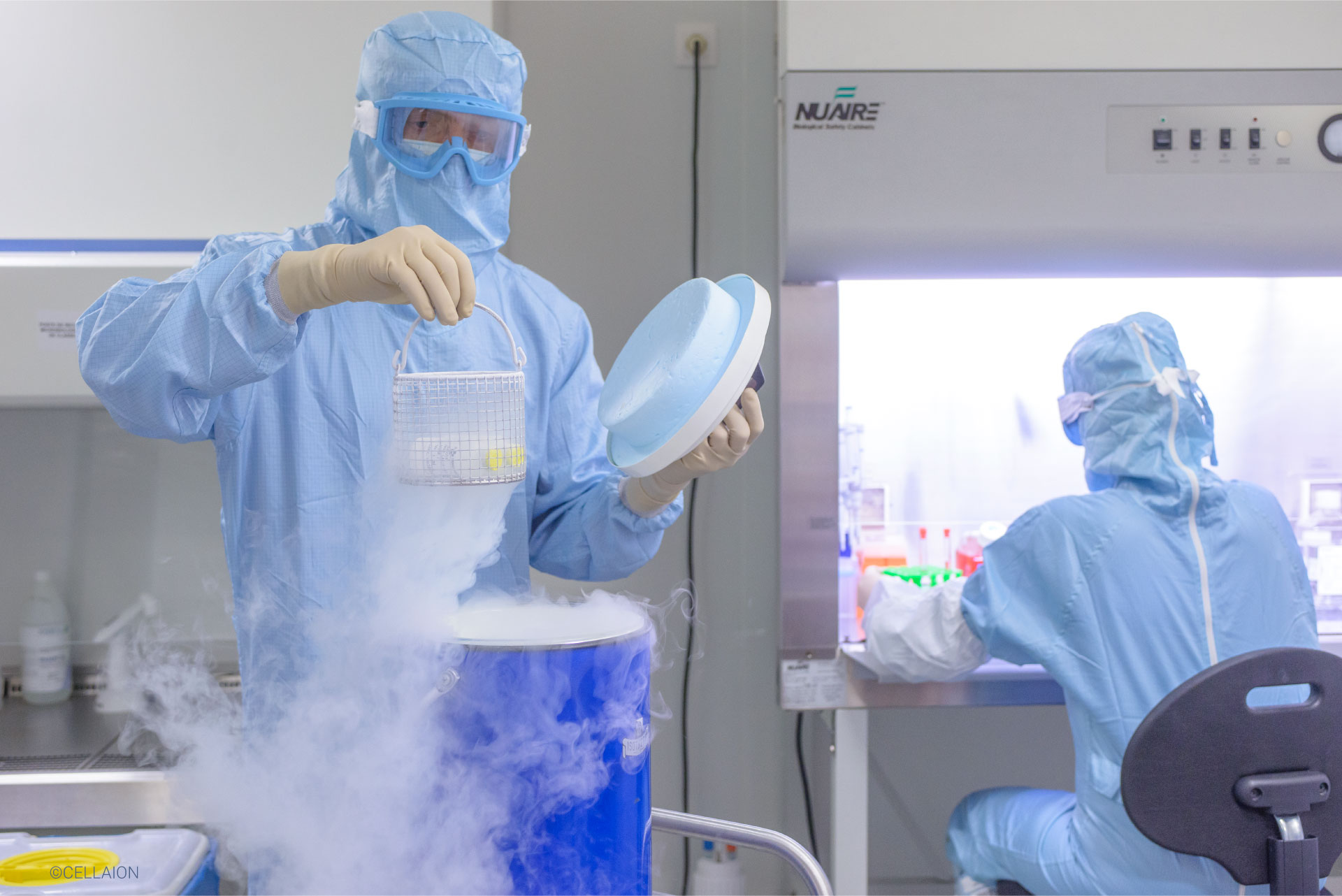 Cellaion SA announces a total fundraising of EUR 23 million in 2022 for its phase IIB study in Acute on Chronic Liver Failure with Truffle Capital as lead investor in the final Closing followed by Newton Biocapital, Wallonie Entreprendre and individual investors.
Mont-Saint-Guibert, Belgium, 2023/01/13. Cellaïon is a biotechnology company based in Mont-St-Guibert, active in the field of cell therapy, an area of excellence in the life sciences industry in Wallonia. Its flagship product HepaStem®, in advanced clinical development, targets severe liver diseases, and in particular Acute on Chronic Liver Failure (ACLF). ACLF is an acute hepatic failure leading secondarily to multi-system failure (i.e., other organs such as kidneys, heart, brain, lungs). Mortality exceeds 50% in the short term. HepaStem® brings hope to counter this hyper-inflammatory condition and to significantly improve the survival of these patients. There is currently no therapeutic alternative, and emergency liver transplantation remains largely inaccessible for these patients.
The fundraising in December 2022 completes an initial fundraising which took place in January 2022 and sees the entry as lead investor of Truffle Capital, based in Paris, with its new fund Medeor, a European investment fund specializing in Life Sciences, followed by the Belgian venture capital fund active in biotechnologies, Newton Biocapital and WE (Wallonie Entreprendre), a Belgian public investment fund, alongside a consortium of Belgian-German investors.
With the entry in January 2022 of Sofipôle, 6K Venture Capital and Invest BW, followed by SRIW in the current round, Cellaïon is a perfect illustration of public-private collaboration.
The entry of Truffle Capital with its new fund Medeor, followed by WE and Newton Biocapital, marks the desire to accelerate the development of this technological platform; clinical results are expected in. HepaStem® aims to revolutionize the treatment of ACLF and potentially other systemic inflammatory diseases.
"I am pleased with the enthusiasm generated by the technology and Cellaïon's mission to save the lives of patients with severe liver failure. HepaStem® is an innovative treatment based on hepatic stem cells; HepaStem® acts on several parameters responsible for hyperinflammation, in order to restore liver function. The ongoing study aims to demonstrate its efficacy and good tolerance with a view to bringing this product to the market, for the benefit of patients," says Etienne Sokal, hepatologist, CEO and founder of Cellaïon.
Dr Philippe Pouletty, CEO of Truffle Capital declares: "Truffle Capital invests in radical medical innovation including biotechnology. We were won over by Cellaïon's approach, and in particular by the synergistic effect of HepaStem®'s mechanisms of action, which allow it to act where small molecules are not sufficient to modulate the too many immunological and Inflammatory pathways Involved in ACLF".
Philippe De Backer, Senior Partner at Newton Biocapital and Director of Cellaïon adds: "Cellaïon is one of the rare biotechnology companies so advanced in clinical development, with real potential and prospects for clinical results in the short term; This is a major asset in the current economic context".
Caroline Thielen, Investment Manager at WE, recalls the networking and industrial synergies established in Wallonia, both in terms of clinical development and varied services and manufacturing capacities in the sector. "Companies such as Cellaïon nurture the industrial base that is essential to the networking of infrastructures and expertise installed over the years thanks to a long-term vision of biotechnological and pharmaceutical deployment in Wallonia".
Download the full press release
Contact information
Cellaïon SA
info@cellaïon.com
www.cellaïon.com
Tel: +32 (0)10 39 43 00
GSM: +32 (0) 493 50 35 44