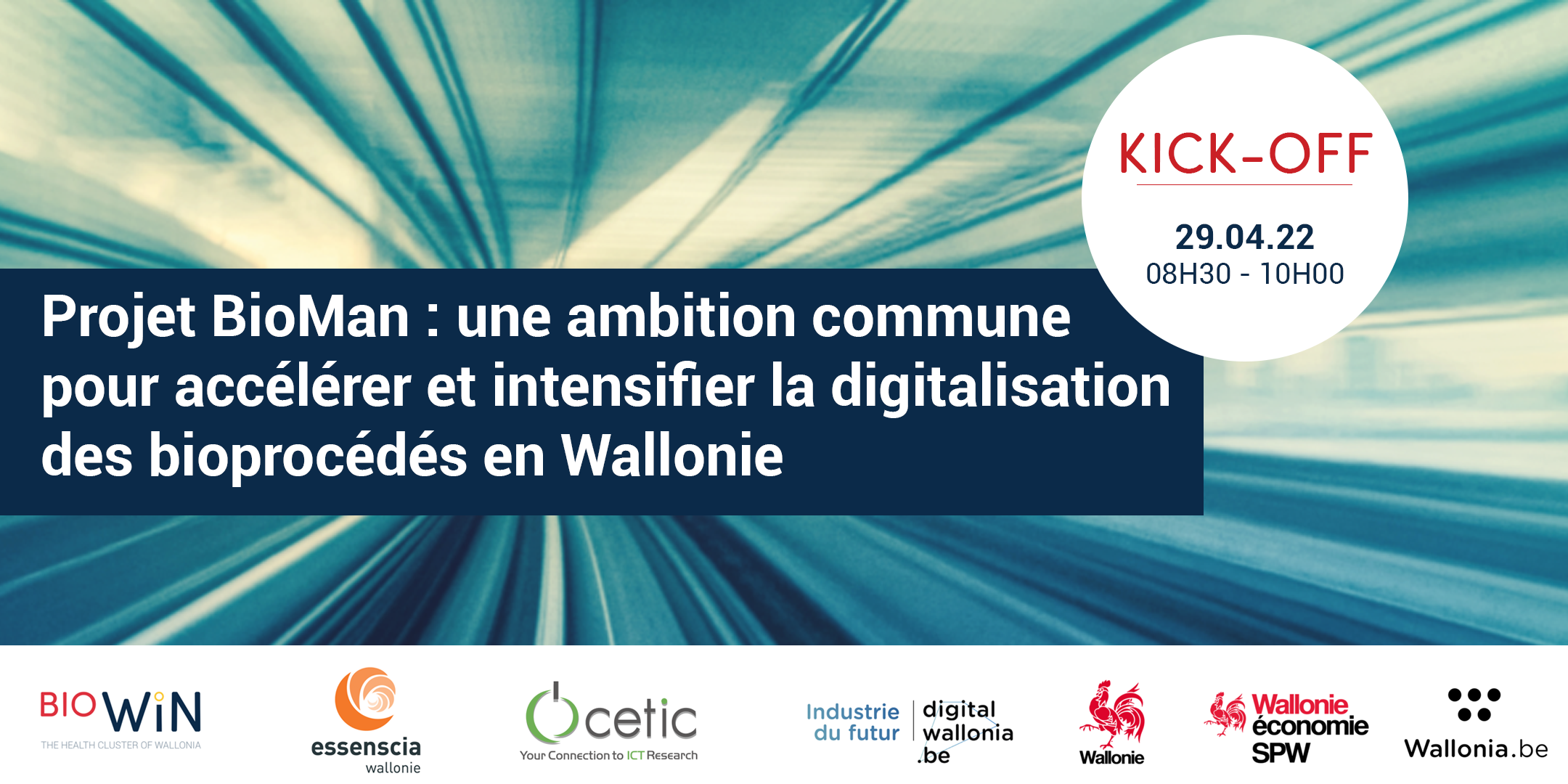 Attend the kick off on Friday April 29, 2022
08:30am to 10:00am
(online session – French)
_______________________________________
BioWin, essenscia and CETIC are joining forces for the BioMan project to strengthen, over a period of 2 years, Wallonia's position among the European leaders in biomanufacturing. In this initiative, the focus will be on the different facets of digital transformation in relation to innovative production methods.
During the kick off, the Agence du Numérique will present the "Industry of the Future" program, as part of the Walloon digital strategy 2020-2024.
Then, the BioMan project will be presented with the concrete steps to support the digitalization that will be proposed to the regional biopharmaceutical ecosystem, as well as the respective roles of the 3 partners in the project.
We hope to see many of you at this session, in order to discuss the unavoidable need to increase the awareness and support of our ecosystem for its digital evolution.
AGENDA
08:30 – Connection of the participants
08:45 – BioMan, a project of the Industry of the Future strategy
Jessica Miclotte, Agence du Numérique
08:55 – Accelerating and intensifying the digitalization of bioprocesses in Wallonia
Thierry Ferain, BioWin
09:05 – Digital maturity scan Made Different, first steps towards a (bio)industry 4.0
Paul Vanabelle, CETIC
09:15 – Importance of the challenges of digitalization for the biotech-biopharma sector
Marc Tilmant, essenscia
09:20 – Takeda: an inspiring digital roadmap labelled "Factory of the Future 2022
Michael Brion, Takeda
09:50 – Conclusions and closing
Please note that registration for the "BioMan" project kick-off is free but mandatory!