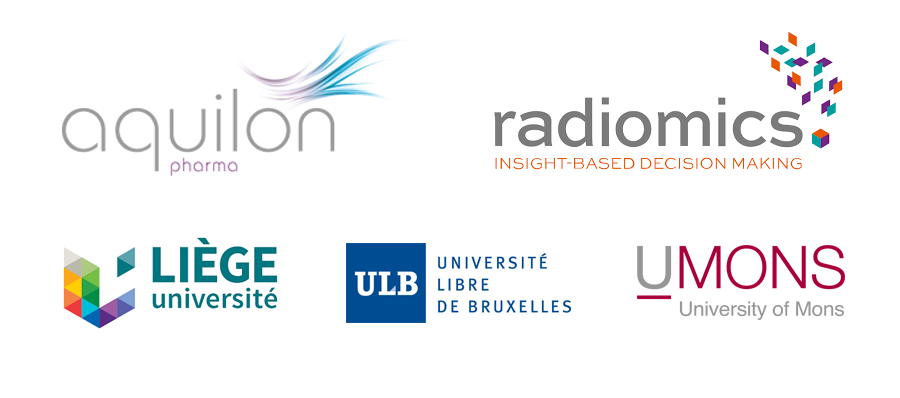 In order to improve the effectiveness of inhalation therapy and prevent the increasing prevalence of respiratory disease exacerbations, Aquilon (AQ) and Radiomics (RDX), together with the academic partners ULiège, ULB and UMONS (A.E., Academic Entities of the consortium) have decided to join their respective competences in the AEROVID project. The strength of the project lies in the fact that a certain know-how has already been acquired. This is the case for the cyclodextrin-based formulation technology (AQ), for advanced image analysis (RDX) or for the development of animal models representing infection-induced respiratory diseases (A.E.). All future developments will therefore benefit from this experience.
The main objectives of the project are threefold:
1) For AQ: Development of more effective inhalation therapies combining a novel technology (based on cyclodextrin and a corticosteroid) and three pulmonary delivery devices (based on the Softmist, Eco-friendly principle) for the treatment of infection-induced respiratory diseases leading to chronic alterations and acute exacerbations.
2) For RDX: Use of an artificial intelligence tool that will identify lung abnormalities present in the patients concerned and move towards personalized medicine.
3) For AEs: To move towards an in-depth knowledge of the cellular and molecular actors at the origin of inflammation and chronic alterations in infection-induced respiratory diseases.
According to our forecasts, AQ will reach its cruising speed in 2030 in terms of potential sales, estimated at 15.9 million Euros for the Benelux and 448.5 million Euros for Europe and 2.14 billion at the global level, not counting the annual growth of the market estimated at 2%. This is a new market in the respiratory field which complements the reference market of asthma and COPD. This represents the creation of approximately 134 additional jobs in Wallonia (for AQ and RDX), assuming that Aquilon will be able to produce the finished products in its plant to cover the needs of the EU. At the global level, one or more additional production lines, probably relocated, will have to be considered to meet the objectives.
Consortium 
Companies : Aquilon Pharma, Radiomics
Universities : ULiège, ULB, UMons
Contact :
Paul Maes : pmaes@aquilonpharma.com
Website : www.aquilonpharma.com